Shackleton Reading - the Anthology of the Outdoor Experience


Your Assignment:   Read Ernest Shackleton in the Anthology (pp. 119-133)
Ernest Shackleton (British) Missionary Generation (1874 – 1922)
Shackleton's previous expeditions:
In 1903, Shackleton was a member of Scott's first expedition (the first attempt by the British). They reached 82 degrees south (actual: 82°16' S lat., about 530 miles from the pole).
In 1909, Shackleton organized and lead the second British attempt to reach South Pole. They reached 88 degrees south (actual: 88°23' S lat., 112 miles from the pole.
Our reading comes from Shackleton's third expedition which he undertook in 1914. By this time, the South Pole had been reached. No one, however, had crossed the Antarctic continent, and Shackleton's plan is do just that, passing through the South Pole on the way.
The journey was to begin on the Weddell Sea side of the continent as shown below: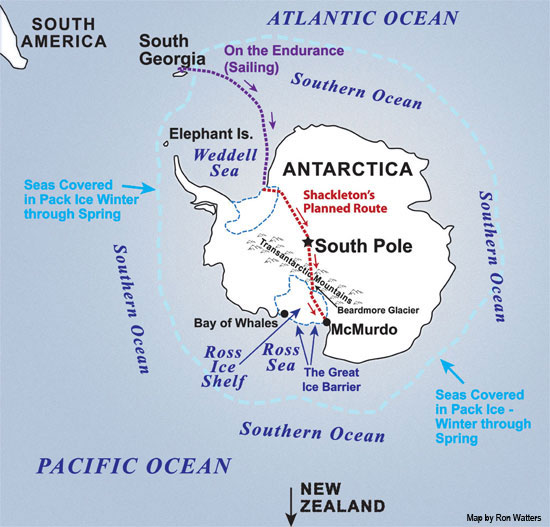 But while sailing south, Shackleton's ship (the Endurance) becomes trapped in the ice: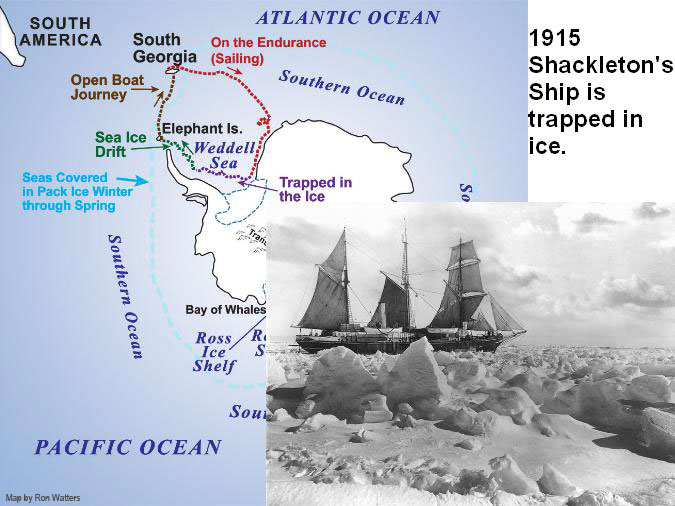 In late 1915, the ship is crushed by the ice . . .
After the ship is crushed, the party drifts in a northerly direction on an ice floe. The floe slowly melts . . .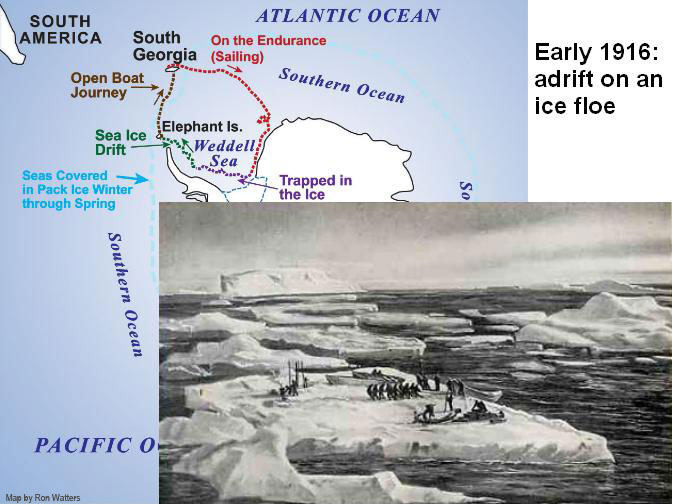 Among the supplies salvaged from the ship before it was destroyed are three life boats. Shackleton waits as long as possible as the floe dwindles and then launches the boats. After a marathon effort of rowing, and five days at sea, they reach Elephant Island . . .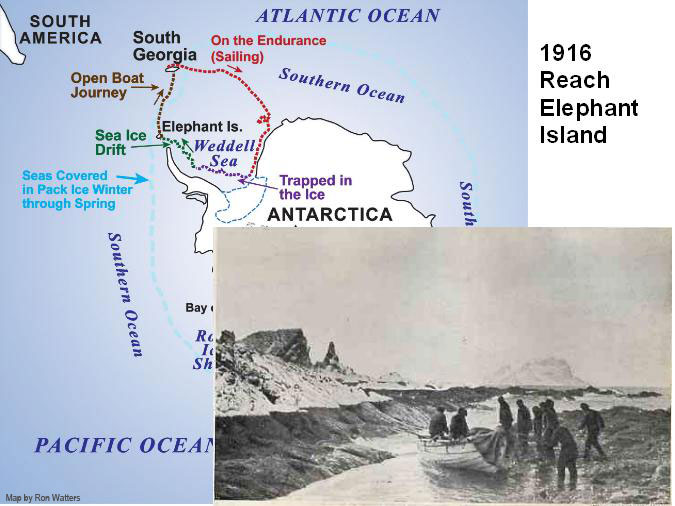 They aren't safe yet. While the main party hunkers down on Elephant Island, Shackleton and five other men launch one of the life boats and sail north into the Southern Ocean in a desperate attempt to reach South Georgia Island, 800 miles away . . .
Our reading is from a biography by the British polar writer, Roland Huntford in which he describes Shackleton's attempt in a fragile open boat to cross Southern Ocean and reach South Georgia. Along with Shackleton are five other men shown below . . .
[End]
---