Jobs in the Outdoor Field
Outdoor Industry, Parks, Forest Service, Conservation, Guiding, Environmental Non-profits, Environmental Education, Camps, Wilderness Therapy, Outdoor Programs, Outdoor Schools, Wilderness Leadership
Over the last several years, there has been a significant increase in the number of new websites (and enhancements to existing websites) which provide outdoor job listings. In the not too distant past, you had to join an organization or pay a fee for a newsletter to obtain job listings, but that's changed. All of the sites below are free.
To help provide some order to list below, I have separated available jobs into several categories. Under each category, I've listed the primary job site links associated with that category. While this may help narrow things down, you should realize that there is still quite a bit of overlap, and if you're looking for a particular type of outdoor job, you'll want to check links in some of the related categories as well.
Outdoor Industry
Types of Jobs: Outdoor Equipment Sales Reps, Customer Service, Product Design & Development, Management, Product Testing
The Outdoor Industry has two main professional organizations: Outdoor Industry Association (OIA) and the National Sporting Goods Association (NSGA). The Outdoor Industry Association is the most appropriate choice for the type of jobs covered here. The National Sports Goods Association doesn't appear to provide much career information, and what is available isn't of much interest from an outdoor/wilderness industry standpoint. Additionally, you'll find, below, that I have included other key websites with job listings in the industry.
Outdoor Industry Association's Career Information - Introductory Page
Outdoor Industry Association - Job Search Page
Camber Outdoors - Listing of industry jobs available in such companies as Patagonia, North Face, etc. Listed by company or by job.
Linkedin - Outdoor industry jobs from a large job sharing and career site loosely based on a Facebook model.
SNews Job Site - SNEWS is a informational site for outdoor industry and adventure travel trade news.
Monster Jobs (Outdoor Industry) - Monster.com's assemblage of outdoor industry related positions.
Malakye. Specializes in outdoor and "lifestyle driven industries." 
OutdoorIndustryJob.com. Good website with jobs in the snowsports, bicycle, fitness, fishing/hunting industries.
Bicycle Industry Jobs. Bicycle related jobs in manufacturing, retail, and sales.
Fishing Industry Jobs. This site includes all sorts of jobs in the fishing industry including manufacturing, retail and sales.
Hunting and Shooting Jobs. Hunting and Shooting Industry jobs.
Basecamp Outdoor. At this site you'll find mostly industry related jobs such as managers, program specialists, marketing coordinators, etc.
Park, Forest and Conservation Jobs
Types of Jobs: Forest Service Recreation Specialists, Crew Leaders for Conservation Work, Park or Forest Ranger Positions, Interpreters for Park, Historical/Cultural Sites, and Commercial Tour Companies.
The main professional organization associated with parks and general recreation programs is the National Parks and Recreation Association (NPRA). They have an exceptional career center which is frequently updated with new listings. For jobs with the Forest Service, BLM and other federal government entities, USAJobs.gov is main place to go. It covers all sorts of federal jobs, but you can filter for outdoor related positions by using "Recreation" as the search word.
National Parks & Recreation Association Career Center. National Parks and Recreation is the place to start when looking for park, forest and public land jobs.
USAJobs.com. Main website for information on Federal jobs. Type in the search word "Recreation" to find outdoor jobs.)
Recreation & Parks Jobs (Government Entities). City, county, state recreation and park jobs.
Conservation Job Board. This is a new site - at least new to me - with an ample selection fo jobs ranging from crew leaders to naturalists to staff positions with environmental and conservation organizations.
Empowering Parks. A guide to uncovering permanent job and seasonal employment opportunities at national and state parks, recreation areas, and campgrounds throughout the U.S.
Occupation Wild: Conservation Corps Job Listings. I like Occupation Wild's easy to use and restful-on-the-eyes website. The site includes job listings for the major job corps operations in the US. What exactly is "job corps"? Here's how they describe it: Continuing a model similar to the Civilian Conservation Corps of the New Deal Era, modern Corps offer the opportunity to serve our country through maintaining national forests, state and national parks, wildlife refuges and federally designated wilderness areas.
Student Conservation Association. Has paid crew leader jobs in which you supervise a group of volunteers which build hiking trails, construct bridges, plant trees, and assist with other conservation projects. Note that much of this website is about volunteer opportunities, and you'll want to click on the "Current Openings" Link to get a listing of currently available paid positions.
Northwest Youth Corps. This is very similar to the Student Conservation Association, above, in that it has paid crew leader jobs.
JobMonkey. National Park, Forest Service and Other Outdoor Jobs
Outdoor Guiding Jobs
Types of Jobs: Guiding for Mountaineering, Bicycling, Whitewater River Running, Canoeing, Sea Kayaking, Hiking, Backcountry Skiing and Boarding.
The guiding industry has a number of state and national associations, but information on jobs are sparse at those sites. Much better information is available from the following:
Backdoor Jobs (Adventure Jobs). Backdoor.com is a good, all-around site for finding outdoor positions. If you are on the home page, you can reach guide related jobs by clicking on the "Adventure Jobs USA" or "Adventure Jobs Worldwide."
Adventure Jobs. AdventureJobs.com includes a wide variety of outdoor jobs. Included are a significant number of guiding jobs, but they are not categorized on a separate list, and you'll need to page through the listings and pick out those that interest you. You'll find job listings for bicycling, climbing, mountaineering, snow sports, trekking, backpacking, water sports, fishing and the environment.
Coolworks (Guide Jobs). Coolworks is another all-encompassing site for the outdoor job market. This link takes you to outdoor guiding positions, but you can reach other outdoor related jobs from their home page.
Canadian Guide Jobs: CA.indeed.com. The Canadians have long supported and nurtured an outdoor guiding industry. Indeed.com has a decent listing of available jobs. This site covers all sorts of jobs, so when you use the search feature, type-in "Outdoor Guide" as your search words.
Indeed.com (US Version). Indeed.com also has a list of guide jobs available in the US. Same as above, type in "Outdoor Guide" as your search words.
Occupation Wild. This is a relatively new site described as a "job board for the outdoor, adventure, and travel industry." Look for the link to "Trip Leading and Guiding Jobs."
Hiking Guide Jobs (SimplyHired.com). SimplyHired.com has a list of hiking jobs.
Kayaking/Rafting Jobs (SimplyHired.com). SimplyHired.com also turns up a list of kayaking and rafting guide jobs.
Canoe Guide Jobs (SimplyHired.com). Another list found on SimplyHired.com includes canoeing and related jobs.
Backroads Employment Opportunities. Backroads offers bicycling, walking and multisport vacations around the world.
Bicycle Industry Jobs. In addition to jobs in manufacturing, retail, and sales, this site also includes guiding position.
Fishing Industry Jobs. Many of the jobs on this site are related to the fishing product business, but it also includes guiding jobs.
Hunting Industry Jobs. Similar to fishing jobs (above), many listed here are product related but also include guiding jobs.
Salary Expert. Another new site. In addition to job positions, it includes an analysis of salaries. I'm not sure of its accuracy when it comes to outdoor jobs, but potentially, the salary feature can be an added benefit for job seekers. The link I'm providing takes you to outdoor guide jobs. The site includes many other job categories, but I found the search feature to be almost useless. It appears that you have to include a town in order to conduct a search, and trying to get even a regional picture of job availability is tedious. Hopefully, they'll get that fixed.
Canada: Job Bank. Outdoor sport and recreational guides in Ontario. Hunting, fishing, canoeing and kayaking guide positions.
Work Anywhere. This site has information on international positions. Click the "Search" link. You can select a country, but below the countries, you'll find a series of icons for different job types. You'll find job possibilities under the following: "Activity Instructor," "Camps", and "Ski and Winter Resorts."
Tour Guide Jobs. This listing includes cruise, resort and touring type jobs, but it also has a link to "Adventure Guide" jobs.
Glassdoor. This is another fairly new operation which serves as a companion site to Indeed.com. It does require registration, but is free for job seekers. One advantage is that it includes written reviews, ratings, and salary information about companies which can helpful before applying for a job. Use "Outdoor Guides" in the Search box.
Alaska Tourism Jobs. You have to scroll through a lot of general service jobs such as cooking, housekeeping, driving, etc., but here and there, you will find an occasional job of interest such as tour management and sea kayaking and trail guiding.

Environmental Jobs
Types of Jobs: Environmental Education or Working for Environmental Non-profits on Wilderness, Land Use, Energy and and other Environmental Issues. Positions available for these jobs include Management, Fund Raising, Research, Lobbying, etc.
Mostly these jobs (except for environment education) are indoor jobs, but a career with an environmental non-profit can be a very rewarding profession. You'll find lots of like-minded, outdoor oriented individuals working on the staffs of such organizations. Moreover, you'll be making significant contributions to protect outdoor resources: fisheries, wildlife, rivers, and wilderness.
Green Jobs Network. Provides links to the careers/jobs pages on the websites of non-profit organizations that focus on social or environmental responsibility.
EcoJobs.org. The purpose of Eco.org is to help job seekers connect with employers who care about the environment and have green jobs to fill.
EnvironmentalCareer.com. Environmental job postings, but also includes a smattering of other outdoor jobs.
Backdoor Jobs (Environmental and Outdoor Education). As mentioned above, Backdoor is a excellent, all-around site for outdoor jobs. If you are on the home page, you can reach environmental education and other green jobs by clicking on the "Environmental and Outdoor Education" link.
Environmental Jobs. Has a bit of everything with an environmental emphasis: engineering, science, policy, energy, and outdoor.
Conservation Job Board. Environmental education, fisheries, forestry, conservation consulting, youth leaders. Also includes some outdoor instructor & leader jobs.
United Nations - Environmental Jobs. These are jobs throughout the world dealing with the environment. You might also want to explore other types of positions available through the UN. They take place in all corners of the earth.
Camp Jobs
Types of Jobs: Camp Counselors, Activity Coordinators, Camp Directors
The most important professional association for camps is the American Camping Association. They host an employment center on their website which lists both summer and full time time jobs. Additionally, below, I've also included Coolworks.com which also lists a healthy selection of camp jobs.
American Camping Association's Employment Center
Coolworks (Camp Jobs). As noted above, Coolworks is an excellent site for outdoor jobs. This link takes you to camp positions, but you'll also find that they have a wide range of other outdoor related jobs which you can access from their home page.
Camp Counselling Jobs (Indeed) OR Camp Management Jobs (Indeed). Camp related jobs from the Indeed website.
Camp Manager Jobs (SnagAJob site). Another job site similar to Indeed. You can also enter searches for other types of outdoor oriented jobs.
Camp Management Jobs (Simply Hired). Still another job site. As with Indeed and SnagAJob, you can enter various search words to trigger a list of jobs.
Christian Camp and Conference Association. This listing of jobs at Christian camps includes much more than counselors. You'll find listings for maintenance workers, cooks, etc., but it does include camp directors, activity program coordinators, and counselors.
Thousand Pines is an example of a Christian camp which has a variety of job opportunities.
Therapeutic Jobs
Types of Jobs: outdoor field instructors, wilderness therapy guides, field mentors, adventure therapy support staff, and residential outdoor youth counselors
This category consists of two segments which are often confused:
1) Wilderness Therapy

2) Recreational Therapy
Wilderness therapy programs are outdoor-based and designed to help turn around the lives of teens and/or young adults struggling with behavioral and emotional problems, including substance abuse, depression, attention deficit, and others.
Recreational therapy, on the hand, works with people with disabilities. Recreational therapists often work indoors in clinical settings, planning and directing recreational programs. It's a profession similar to occupational therapy, and likewise requires a special degree and appropriate recreational therapy coursework. Although not plentiful, there are some recreational therapy jobs in the outdoors. For example, the C.W. HOG program at Idaho State University has employed recreational therapists. Here's a listing related recreational therapy jobs: RecreationTheapy.com
The jobs listed below are primarily related to wilderness therapy. Working for a wilderness therapy employer has three advantages for outdoor education majors. Firstly, most of the jobs are year-round positions. Secondly, you'll start at a higher salary if you have completed an outdoor education degree - and if you possess a Wilderness First Responder certificate. And lastly, you'll be working outside in remote areas. Your responsibilities will include leading groups on multi-day trips into the backcountry where you'll teach camping, survival and general life skills.
Backdoor Jobs (Wilderness Therapy). Backdoor.com includes a wide range of outdoor jobs and appears in a couple of other categories above. They also have one of the best listings for therapeutic jobs. This link will take you directly to the wilderness therapy positions.
Wilderness Therapy Jobs (Indeed). Indeed's listing of wilderness therapy positions.
Occupation Wild. This is a scrappy new entry in the outdoor job world and has a well organized site to boot.
Simply Hired Wilderness Therapy Jobs. A good collection of wilderness therapy jobs. Significant increase in pay if, in addition to outdoor education experience, you have a counselling or psychology background.
LinkedIn. This is LinkedIn's listing of wilderness therapy jobs.
Redcliff. Redcliff is an example of a wilderness therapy employer and often needs to fill a number of positions each year. This link takes you directly to their employment information page.
Aspiro. Another example of a wilderness therapy program with a need to fill positions.
New Vision Wilderness Therapy. New Vision is another wilderness therapy employer. You can also turn up other company specific position openings by doing a Google search for "Wilderness Therapy Jobs."
Outdoor Schools & Outdoor Education Programs
Outdoor Programs, Outdoor Schools, Wilderness Leadership Courses, Team Building and Challenge Course Programs
There are two primary organizations associated with outdoor programs and schools. These include the Association of Experiential Education (AEE) and the Association of Outdoor Recreation and Education (AORE). Primarily, these organizations serve non-profit programs and count students and professionals among their membership. As may be evident from their choice of names, the Association of Experiential Education (AEE) is fairly broad in scope. Outdoor programs are just one of many different types of organizations included under the AEE umbrella. On the other hand, the Association of Outdoor Recreation specifically caters to the outdoor field and serves students and professionals who work in academic departments, non-academic university outdoor programs, city recreation departments with outdoor components, military recreation programs, Outward Bound schools, and other non-profit schools and programs.
Association of Experiential Education Jobs Clearinghouse. The Association of Experiential Education has a Jobs Clearinghouse. You can choose from a variety of positions, designate the industry that you're interested in, and you can narrow down the search to specific states.
OutdoorEd. The Association of Outdoor Recreation and Education doesn't maintain job listings, but it has a working relationship with OutdoorEd, an outstanding outdoor resource site in itself, which has a solid, web-based career center. You'll need to register for the site, but registration is free.
NIRSA Bluefish Jobs. The National Intramural-Recreational Sports Association (NIRSA) maintains a list of jobs available on college campuses. Among the general recreation positions on the list, you will find positions in college outdoor programs.
Outdoor Education Jobs. This is a new LinkedIn job listing service - at least it's new to me - and it has an impressive list of offerings in outdoor education and other related fields. It's worth a look.
Project Adventure Jobs. Project Adventure came about in the early 1970's by borrowing Outward Bound learning principles and other experiential education concepts and applying them to a public school environment. Leaders in the organization went on to publish series of books of "new games," initiatives and team building activities which became standard references in the field. You won't find a lot of job listings on their site but it's worthwhile to check from time to time.
Adventure Jobs. AdventureJobs.com is a great all-around resource and includes job listings for bicycling, climbing, mountaineering, snow sports, trekking, backpacking, water sports, fishing and environment.
Association for Challenge Course Technology. The Association for Challenge Course Technology sets minimum standards for the installation, operation and inspection of challenge courses. Their website includes a list of challenge course jobs, and if you are interested in this aspect of outdoor education, you'll want to check it out.
Outward Bound. Outward Bound is the oldest non-profit, wilderness based school. They have several regional centers and hire on a frequent basis. Outward Bound positions are generally seasonal in nature but the experiences gained from working at one of the Outdoor Bound schools can often lead to other positions in the field.
National Outdoor Leadership School (NOLS). The National Outdoor Leadership School is an outstanding non-profit organization offering multi-day educational trips in the wilderness. Like Outward Bound the work is generally seasonal. One caveat: potential employment with NOLS is predicated on having taken their month-long instructor's course.
Army Jobs. The military has quite a number of outdoor programming jobs. These are civilian jobs. You do not have to be a service member. The pay and benefits are very good, and opportunities are available for positions throughout the world. When you use this website, type in "Outdoor Recreation" or "Recreation" as your search word.
Supplemental Income
Wilderness First Aid Courses
Wilderness First Aid has become the de facto standard for individuals working in the outdoor field, and consequently, there is considerable demand for instructors. Being a wilderness first aid instructor is not a full time job, but it can provide supplemental income. There are three wilderness medicine organizations. One is SOLO Wilderness Medicine. There's nothing on their website about becoming an instructor, so I'll concentrate on the two remaining organizations:
• Wilderness Medical Associates
...(Information on becoming a certified instructor)
• Wilderness Medicine Institute at NOLS
.. (Page down to NOLS Wilderness Medicine & info on becoming certified)
Other Resources
A List of Professional Associations related to the outdoor field are found here: Professional Associations
---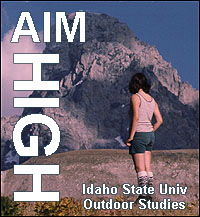 This page was created for the Outdoor Methods website. Outdoor Methods is a course for Outdoor Education Majors and Minors at Idaho State University.
[END]
---